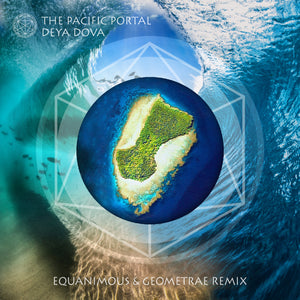 Digital Download
From the crystalline waters of the South Pacific Ocean comes the 6th remix of the Planetary Grid Music Collection! A high vibe'd, funky bass remix of  - The Pacific Portal - by boundary pushing northern Californian producers Equanimous & Geometrae!

Equanimous and Geometrae join forces, layering percussive beats, bass and lilting melody with the dreamy vocals, shell shakers and tribal percussion of the original mix. Setting sail a light infused, uplifting dance floor journey into the azure blue horizons of the Pacific portal.

The original song was recorded live on a white silica sandbar in the majestic Loyalty Islands archipelago. Within major vortex region UVG Grid Point 45, South Pacific Ocean.

The original song of The Pacific Portal is from album 11 of the Planetary Grid Music Collection.