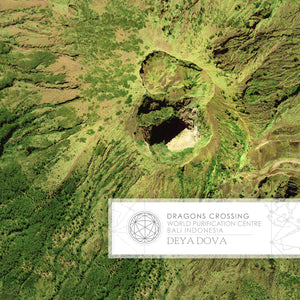 Digital Download Album
From an incredible 7 year journey singing and recording live on the Earth's energy lines at over 44 locations across the planet, Deya Dova releases the 5th of 12 mini albums from her Planetary Grid Music Collection.
Dragons Crossing is recorded live in the paradisical landscapes of Bali, Indonesia. Located 8 degrees south of the equator, Bali is situated beside one of the 15 Great Circles of the UVG World Energy Grid. Coined the World Purification Centre by Robert Coon, Bali is one of only two places on land where two great dragon ley arteries cross on the planet.
These 4 prayerful songs are recorded on the dragonline gateway. In the lush terraced rice fields, on an elaborately carved dragon bridge in sacred Monkey Forest, inside the largest and holiest temple of over 200 thousand temples on the island and inside a river cave on the slopes of sacred volcanic mountain, Mt. Agung. Enter this purifying field held in impeccable prayer. Whatever is causing imbalance within the system is sifted and syphoned through it's waters, realigning the structure with divine order and balance. Everything has a purpose and it's right place. In a greater ceremony of balancing and harmonising the Light and Dark.