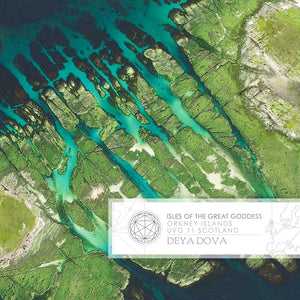 Digital Download Album
From an incredible 7 year journey singing and recording live on the Earth's energy lines at over 44 locations across the planet, Deya Dova releases the 12th album from the Planetary Grid Music Collection.

Isles of the Great Goddess was recorded live in Nature on the awe-inspiring, wild and windswept archipelagoes of Orkney, North Scotland.
As the last ice age made it's final retreat from the islands around 13,000 radiocarbon years ago, the old red sandstone bedrock was uncovered. Once known as the Orcades, this spectacular and expansive landscape holds an archaeological treasury of ancient stone temples and ruins, chambered mounds and some of the oldest and tallest standing stone circles in all the British Isles. It's quartz infused stone henges are ingeniously arranged to anchor, enhance and store the geomagnetic earth energy, toroidally pooling and spiraling around major vortex region, UVG Grid Point 11, Scotland.

These 7 enchanting songs come from listening to the leylines of the land. Listening in to the colossal prehistoric ritual complex and ceremonial gathering place, in which the ancients aligned their temples with the grand procession of Nature.
Listening in to the megalithic standing stones of the Ring of Brodgar, older than 4000 years old and the Standing Stones of Stenness pre-dating Stonehenge. Songs that travel back to the now sunken lands that bridged Orcadia with the continent of Old Europe.
Listening in to the body of a great landscape goddess, between her stone carved thighs, within a massive carved out monolith filled with memory of ancient woodlands and the enchanting sound of faerie folk. Each track is a mythic story woven with folklore, lilting melodies, cinematic soundscapes of harp, strings, bohdran and deer skin drums. All lead by the multi layered voices of Great Mother Earth herself.
And so it is. She re-appears, through the mists. Uncovered. These are the lands and temples of the Great Goddess tradition. A shamanic, matristic land devoted to the celebration and reverence of all Life. Here where the veil is thinner and Heaven is mapped and measured to the Earth. Herstory is sung. The Great Ancestress returns to restore balance in the realm.