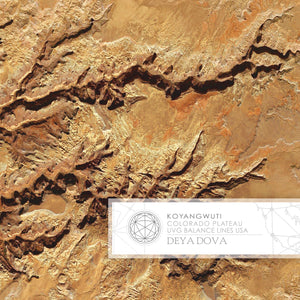 Digital Download Album
From an incredible 7 year journey singing and recording live on the Earth's energy lines at over 44 locations across the planet, Deya Dova releases the 9th of 12 mini albums from her Planetary Grid Music Collection.

Koyangwuti was recorded live with the Earth in the monumental beauty of the Colorado Plateau. Woven with spectacular natural rock formations, this expansive desert region is also known as the Four Corners of the United States. All 3 recording locations are on Balance and Aether energy lines of the UVG World Energy Grid. Koyangwuti is a Hopi word meaning Spider Grandmother.

These 6 uplifting, high desert songs spontaneously arose from deep listening to the awe-inspiring grandeur of the Grand Canyon escarpment, Arizona. Listening to the primordial biofabric, the warp and the weft of the Earth's energy field at the majestic sandstone pinnacle, Spider Rock, Canyon De Chelly. Listening in to the extraordinary beauty way of the ancients imprinted in the deep cut valleys and cliff dwellings of Mesa Verde, Colorado.
By being in connection with the land we relearn right relation with all things. Honouring the web of life of which we are all a part. Stepping back from the weave we suddenly see the pattern. A vision of a more coherent and inclusive planetary view. The world knows itself through its being seen.