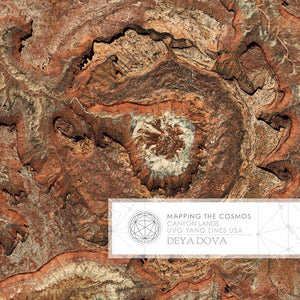 Digital Download Album
From an incredible 7 year journey singing and recording live on the Earth's energy lines at over 44 locations across the planet, Deya Dova releases the 7th of 12 mini albums from her Planetary Grid Music Collection.
Mapping the Cosmos is recorded live at two locations in the desert canyon lands of Utah, United States, at Upheaval Dome and Sego Canyon. Both recording sites are situated on yang Earth energy lines of the UVG World Energy Grid.
These 4 galactified songs teleport the listener off terra firma to view Earth from space. Recorded live inside the rings of a colossal impact crater hit by a meteor 60 million years ago. And in the 40 degree heat of a sandstone canyon in the presence of prehistoric, hybrid beings and ancient astronauts, painted high up on the rock walls. And inside a red rock cave of an anomalous geological structure, far far out there in the Island in the Sky. See now Earth from space through the twinkle in a starseed's eyes. A massive luminous sphere of bio matter held together by gravity. Encrypted with cosmic memory. Legions of angels mapping and measuring the architecture. Earth. Ancient keeper of records. Wisdom begins in wonderment of Creation.