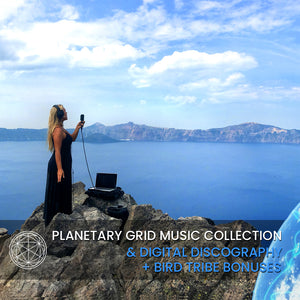 Digital Download Albums
The complete 12 ALBUM PLANETARY GRID MUSIC JOURNEY
including access to LIVE CALLS with Deya Dova, Energy Line Connection Meditations, Deya's Personal Song Transmissions, Exclusive Photos & Videos, Deya's Ongoing Research & Exploration of the Earth's Energetic Field, PLUS the ENTIRE DEYA DOVA DIGITAL DISCOGRAPHY!!!
HERE IS EVERYTHING YOU RECEIVE:




The Entire Planetary Grid Music Collection.
All 12 mini albums that transport you around the planet. Downloads for home, car and mobile as well as an exclusive streaming playlist. Digital Download Albums.

Access Exclusive Live Calls
Access the live video calls held on the release for each Planetary Grid Music album. Deya shares the experience and deeper information of the recording locations and leads live energy line connection meditations to connect you in with the Earth's energetic field. Deya also holds in-depth 'ask me anything' question and answer sessions.

All calls are recorded and archived to watch in your own time.
The Complete Deya Dova Discography
The entire Deya Dova digital discography!! All the 9 albums that have taken Deya Dova touring internationally and sold 10's of thousands of copies worldwide. Includes all music videos, lyrics and album artwork booklets.





Bonus Additional Information
For those of you who want to dive deeper, with every single Planetary Grid album there is a wealth of downloadable additional information & material.

- Deya's personal song transmissions and notes about the recording experience of each song.
- Energy line connection meditation MP3's downloadable from the live call meditations.

- Additional information on the Earth's energetic field to expand your awareness and consciousness. Deya shares all her own personal research with you and the latest information she speaks about festivals worldwide.

- Environmental awareness and positive actions to help protect the Earth. Sharing the inspiring projects and actions that are happening to protect the land and water from each Energy line area.

- Grid line maps that give the visual representation of how the energy lines are connected

- As well as exclusive photos, video and vlogs from each song. That put you right next to Deya as she recording in these incredible ancient places.

All this material is a perfect accompaniment to the music and live calls and is like a living breathing diary book that is unfolding with each album release. A collection of inspiration, knowledge & wisdom sharing and positive environmental action.



A Percentage Of All Funds Is Donated To Project The Earth
A percentage of all funds from this music journey is donated to support projects protecting our sacred Earth and Waters.

You become a valued VIP member of our Bird Tribe
Receive lifetime access to all the music downloads and content in the private online Bird Tribe members area.
Technical Support
If you are tech challenged we have got you! There is full tech support if you need help.

10 Day Unconditional Money - Back Guarantee
If for any reason you do not love this music experience we refund your money no questions asked.

After purchase you will receive an email in 24hrs with details to login and instantly access all the music and content.