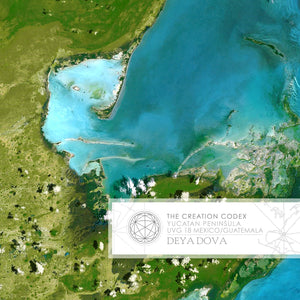 Digital Download Album
From an incredible 7 year journey singing and recording live on the Earth's energy lines at over 44 locations across the planet, Deya Dova releases the 8th of 12 mini albums from her Planetary Grid Music Collection.
The Creation Codex was recorded live at three megalithic locations on the Yucatan Peninsula of Mexico and Guatemala. At Chichen Itza, in the sunrise and elevated presence of the Temple of the Feathered Serpent, on the azure Caribbean Coast at the Place of the Dawning Sun, Tulum and in the tropical Guatemalan jungle amidst the colossal pyramid complex of Tikal.
All locations are situated on earth energy lines, within the major vortex region of UVG Grid Point 18, the Bermuda Triangle.
These 8 mysteriously beautiful songs arise from singing in connection with a limestone plateau that slept for millions of years beneath the prehistoric ocean. It's honeycomb bedrock sprinkled with subterranean caves and cenote sinkholes linking a megalithic Mayan megalopolis. Out from beneath the layers of cataclysm and civilisations gone before, from the vaults of the limestone earth come songs of tranquility and peace. Out from the qunicunx of chaos, Creation is born.