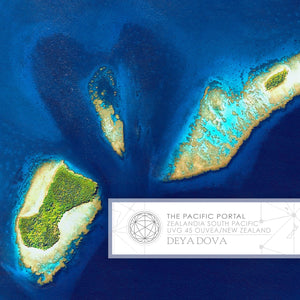 Digital Download Album
From an incredible 7 year journey singing and recording live on the Earth's energy lines at over 44 locations across the planet, Deya Dova releases the 11th of 12 mini albums from her Planetary Grid Music Collection.
The Pacific Portal was recorded live on location in the heavenly vestiges of a submerged lost continent, known today by scientists as Zealandia. An ancient landmass that broke away from the Gondwana supercontinent 85 million years ago. Now sunk beneath the South West quadrant of the Pacific Basin, only 6% of it's body mass is visible above sea level.
New Zealand, Aotearoa and New Caledonia / Loyalty Islands are like biological arks, survivors of seismic uplift and tectonic buckling of the oceanic lithosphere. Situated on Earth energy lines within the the major vortex region of UVG Grid Point 45, South Pacific Ocean.

These 6 transcendental songs come from listening to the undulating wavelengths of oceanic consciousness alive in the Earth's largest body of water. Singing on silica white sandbars, between sky and sea, in a bubble of blues off the crescent-shaped Ouvea atoll in the Loyalty Islands archipelago. And in the Southern topography of the sunken landmass, amidst the elevated monumental grandeur of Kura Tawhiti, Castle Hill, New Zealand. Singing with a sacred nest of water carved stones the Dali Lama called the Spiritual Centre of the Universe.
Here in the Pacific Portal from the silicon storage of the great Earth Library, the sonic records whisper of a Golden Age. Overflowing with Mana, the essence and effervescence of Life. Here the waters sing of a promise. What has been before, shall arise again.