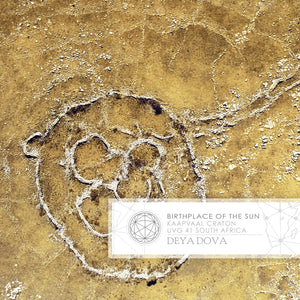 Digital Download Album
From an incredible 7 year journey singing and recording live on the Earth's energy lines at over 44 locations across the planet, Deya Dova releases the 10th of 12 mini albums from her Planetary Grid Music Collection.
Birthplace of the Sun was recorded live on location in the time carved beauty of the Kaapvaal Craton, South Africa.
A remnant of the original supercontinent, it is home to some of the oldest exposed rocks on Earth dating back 3.5 billion years and contains some of the earliest traces of life, including the genetic origins of Humanity. Known as the Cradle of Humankind, this region is saturated in millions of stone circles and one of the oldest Earth Calendars in the world.
All within the vortex area of energy line intersection UVG Grid Point 41 of the Planetary Grid.

These 7 celebratory songs come from singing in the spectacular, golden savannah biome along the backbone meridian of the planet. Traveling the listener to the ancestral lands of the mythic White Lions amidst grazing zebra, impala and giraffe. Into the epicentre of the ancient standing stone observatory known as Adam's Calendar and inside the belly of one of the millions of stone circles networking the minerally rich region. Out to a fossilised footprint left in a granite outcrop 3.1 billion years ago, and onto the breathtaking escarpment of the largest green canyon in the world.
Here with the spinal records of repository Earth, the electromagnetic energy of the land is revitalising and sings of fertility. Prehistoric soils germinated by asteroid impact on the Great Mother continent.
As I sing I experience the land flowering in it's being sung. Just like a woman, the Earth blossoms in her being honoured and adored. Just like a woman, the Earth's womb sings of our origins and the mysteries of the First Time.