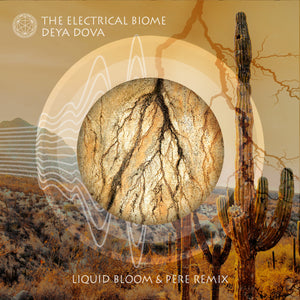 Digital Download
The 3rd remix of the Planetary Grid Music Collection - The Electrical Biome - remixed by 2 of the global festival favourites, organic electronica journeymen Liquid Bloom & PERE!

Liquid Bloom (Amani Friend of Desert Dwellers USA) & PERE (Shahar Amit of Tribone ISRAEL) join forces to remix The Electrical Biome into an excitingly lavish tribal dance floor odyssey!
Masterfully infusing world organic instrumentation - featuring live handpan and didgeridoo by Jerry Walsh - and trance inducing progressive electronica, together with the sublime, in between the worlds vocals of the original song. This track transmits the electrical medicine of the vast open Sonoran desert spaces to the global conscious dance floor & beyond.

The Electrical Biome was originally received and recorded deep listening with the desert horizons, antennae like saguaro cactus and sun scorched rocks in one of the largest Earth energy line intersections in North America - UVG Grid Point 17.
Album Cover Design ∆ Deya Dova

The original song of The Electrical Biome is from album 3 of the Planetary Grid Music Collection.